Trial returns for second study year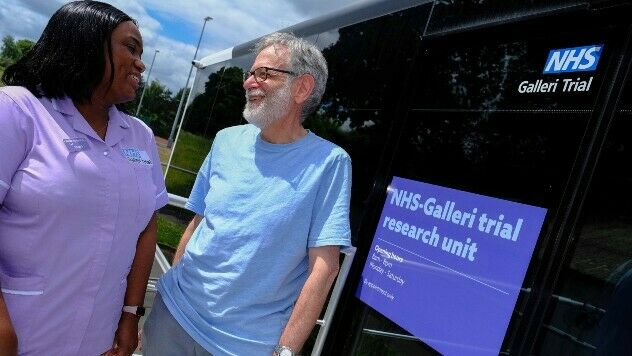 People taking part in the NHS-Galleri trial are being invited to book their second (12 month) appointment, as mobile clinics return to study regions across England.
The NHS-Galleri trial is looking into the use of a new blood test to see if it can help the NHS to detect cancer early when used alongside existing cancer screening. The Galleri® test can detect signs of many different types of cancer in a sample of blood.
Over 140,000 people have volunteered to take part in the NHS-Galleri trial. Participants will be invited to attend three appointments over two years, each about 12 months apart.
Participants are helping researchers to understand how to offer the Galleri test to people in the future. The blood sample provided at each appointment will form an important part of the research.
Professor Charles Swanton, Co-Chief Investigator for the NHS-Galleri trial, said: ​"These next trial appointments are really important for helping researchers understand whether the Galleri test could be used by the NHS in the future.
"The first year of the trial may pick up cancers that have been around for some time. The second and third years of the trial may pick up new cancers at an early stage. This will help us understand the benefits of finding cancer early, when it is usually easier to treat."
The NHS-Galleri trial launched in September 2021, with mobile clinics starting in Runcorn and Sydenham to enrol people for their first appointment. During the initial 12 months, mobile clinics went to 151 sites, spanning Berwick in the north, to Lowestoft in the south, and Dymchuch and Whitehaven in the east and west.
Mobile clinics are now travelling across England to offer second appointments in Cheshire and Merseyside, Greater Manchester, the North East and North Cumbria, West Midlands, East Midlands, East of England, Kent and Medway, and South East London.
Participants who have been treated for cancer since their first appointment may not need to attend a second appointment. This is because the trial is looking at the use of the test to help find cancer in people who do not have cancer symptoms. Participants who have been treated for cancer are asked to contact the trial team or speak to a study nurse to check if they need to attend an appointment.
Even if participants do not need to give another blood sample, they will remain an important part of the trial. This is because their health information will continue to be collected to help with the research.
The NHS-Galleri trial is being run by The Cancer Research UK and King's College London Cancer Prevention Trials Unit in partnership with the NHS and healthcare company, GRAIL, which has developed the Galleri test.