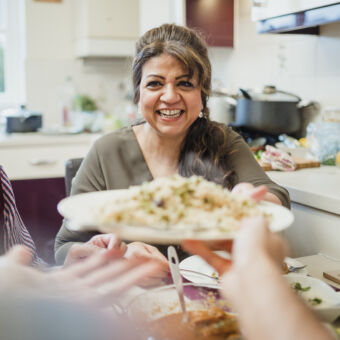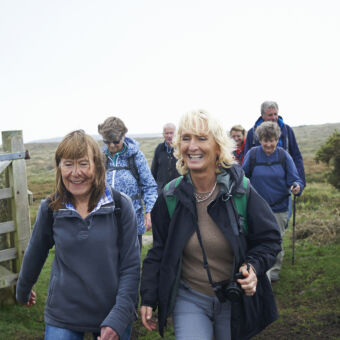 What is the purpose of the NHS-Galleri trial?
Galleri® is a new blood test that can detect signs of many different types of cancer in a sample of a person's blood.
The NHS-Galleri trial is a research trial to see how well the Galleri blood test works in the NHS. The aim of the trial is to see if using the Galleri test alongside existing cancer screening can help to find cancer early when it is usually easier to treat.
Around 140,000 volunteers age 50 to 77 have registered to take part in the trial.

A trial is a type of research study that aims to understand whether a new treatment or test works better than other approaches that are already being used.
Every day in the UK, more than a thousand people are diagnosed with cancer.
Now the good news is that survival is at an all-time high but there's clearly a lot more that we could do.
And what's become increasingly clear over the last decade or so is that if we're really going to make progress and if we're really going to drive down the numbers of people that die from cancer we need to find ways to pick it up at an early stage, we need to find it before it's caused symptoms because for the great majority of cancers, that's what's going to make the difference to peoples' chances of survival.
The NHS trial is a trial of a new test and we want to find out whether using that test as part of an NHS screening program could prevent people from dying from cancer by finding the cancers earlier.
The Galleri® test looks for distinct markers in our blood that can tell us whether or not we're likely to have cancer.
And those markers can enable us to determine not just whether we might have cancer but also what type of cancer it might be and so what the trial is trying to do is now to determine whether this can really make a difference across the whole of the NHS in helping us to detect people with cancer earlier.
If you're aged 50 to 77 and the study is coming to a place near you you'll get a letter and then it's very easy – you can phone up or you can go on the internet to respond to say, ​'yes, I'd like to take part.'
It's purely voluntary but they will be helping, possibly themselves and, more likely, the next generation.
This is a really ambitious study.
It's a 140,000 person randomised control trial across England, across eight alliance units but we need these kind of numbers in order to be able to assess the effectiveness of this test in the UK screening population, so that is to say, people without symptoms.
The majority of the units are probably going to be in supermarket car parks so that our participants have easy access to them.
The volunteer will come onto the unit, they'll be greeted by one of our research nurses, they'll be checked for eligibility for the study.
We'll then go through to watching a short video which will explain everything about the study and what they're signing up for.
Informed consent will then be taken and a small blood sample will then be taken from there.
So we know from this blood test that a small proportion of people will have a positive signal detected.
Those people will be referred by the Galleri service through to a two-week wait referral, an urgent cancer referral into their local hospital.
We, as a Cancer Alliance, will make sure that those hospitals are informed that these referrals are happening.
We'll be making sure that they've got the right set-up to do the right investigations and we'll make sure their general practitioner is involved and is kept up to speed with what's happened to that patient at all times.
It's really important that we recruit people, recruit volunteers, from a very diverse range of backgrounds.
And the reason that's so important is so that we can be confident that the results we get are applicable to the whole population.
The potential for this study is immense for the NHS.
Getting people with early-stage cancer, whether they have symptoms or not is very important.
At that stage, we can generally cure them of their cancer and that makes a huge difference to their lives going forward, and their families and everybody involved with them.
Everyone knows someone who's had cancer or is currently being treated for cancer and to be part of the forefront of cancer research and being able to make a difference and, ultimately, save lives is something that I think a lot of people want to be part of.
In many ways, this is the culmination of decades of work, so, to be here, launching a trial of 140,000 people of this exciting new innovation feels very special indeed.
This could be really important and, indeed, it could be transformational for early cancer diagnosis in the UK.
The NHS has set itself the ambition of diagnosing three-quarters of people with cancer at an early stage, when it's amenable to curative treatment.
So what we'd really like is a test that can pick them up at an early stage when they're most likely to be curable.
That sort of thing can be a real game-changer.
Learning from the trial
After the trial, we will have a much better understanding of how well the Galleri test works in the NHS. If it does work, then it could be used in the NHS in the future (like breast screening or bowel screening, but for many different types of cancer).
If the Galleri test does not work well in this setting, then we will still have learned important information about what research needs to be done in the future to improve cancer screening.

More about the Galleri test
Who is taking part in the NHS-Galleri trial?
The NHS-Galleri trial is not accepting new participants at this time — registration is closed.
You could take part in the trial if you were:

Aged 50 to 77
Had not been diagnosed or treated for cancer in the last 3 years
Registered with a GP in one of the areas where the trial is taking place
As a participant, you'll be invited to three appointments over two years, about 12 months apart.
Where the trial is happening
The trial is taking place in areas across England known as Cancer Alliances.
Cancer Alliances bring together clinical and managerial leaders from different hospital trusts and other health and social care organisations, to transform the diagnosis, treatment and care for cancer patients in their local area.
The trial is taking place in the following Cancer Alliances:
Cheshire and Merseyside
East Midlands
East of England (North)
Greater Manchester
Kent and Medway
Northern
South East London
West Midlands
Appointments are held onboard large mobile clinics and smaller mobile vans.
The mobile clinics are mostly located in supermarket car parks, where parking is available. They can also be reached by public transport.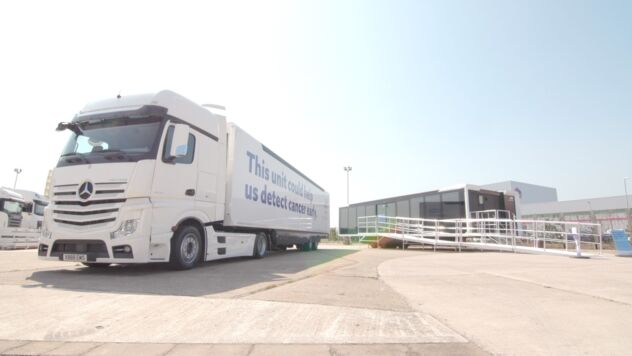 Benefits and risks of taking part
By taking part in the trial you will be contributing to cancer research which may benefit people in the future. You may not benefit directly by taking part.
If the trial finds that the test can detect cancer early when used with existing cancer screening in the NHS, then more cancers could be successfully treated in the future. This is because the earlier cancer is found, the easier it is to treat.
The research team will try to make sure people who take part in the NHS-Galleri trial have a good trial experience. However, there are some risks that you need to be aware of.
If you take part in the trial you will need to give a number of blood samples. Giving blood is generally safe but there are some possible side effects including:
discomfort
lightheadedness
infection
If the test detects a cancer signal, you could experience anxiety or distress. Like all screening tests, the Galleri test is not perfect and can give a wrong result. If the test detects a cancer signal and no cancer is found by the doctor, you may have had follow-up tests that were unnecessary. Those follow-up tests can have their own risks, such as radiation from scans, that you should discuss with your doctor before receiving them.
The research team will try to make sure people who take part in the NHS-Galleri trial have a good trial experience.
What organisations are involved
GRAIL Bio UK Ltd. is the main funder and organiser of this trial. It is a branch of GRAIL, LLC in the United States that developed the Galleri test.
NHS England is a partner and will provide follow-up and care related to the trial. The National Disease Registration Service will provide data for the trial.
The Cancer Research UK & King's College London Cancer Prevention Trials Unit, a team of cancer researchers and trial managers at King's College London, will coordinate this trial and analyse the results.
More about the trial team