Your appointment
You will be able to book an appointment at a mobile clinic that is in your local area. Your first appointment will last about 45 minutes.

On the day
Please arrive at the mobile clinic in time for your appointment and wear a face covering. A trial team member will check you in and confirm your details. They will:

Ask you some more detailed questions about your medical history to make sure you can take part.

Show you a short film explaining the trial to help you decide whether you would like to take part.

Go through the participant information sheet with you.

Ask if you have any questions.
You will have received a copy of the participant information sheet in the post with your appointment confirmation letter, or you can view it online.
Participant information sheet
The research team needs to make sure the trial is right for you to make sure it is safe for you to take part. This also ensures that the results of the trial are reliable.
It is possible that at your first visit the research team will find out that it is not suitable for you to take part. If this happens, you will receive an explanation. No blood samples will be taken if you are not eligible.

Giving consent
If you are eligible to take part and you want to proceed, the nurse will ask you to complete a consent form to confirm that you wish to take part.
You will be asked if you agree to share information about your health from your medical records. This includes information such as cancer diagnoses and treatment received.

How your data will be used
Having your blood test
Because the Galleri® test is a blood test, we need you to give a blood sample. This will be like having a normal blood test and the blood sample will be taken by someone who is trained to do this.
If there is a problem with your blood sample, such as if it were lost in shipment, you may be asked to provide an additional blood sample.

All the appropriate safety measures will be put in place.

Staff will wear face masks and follow social distancing guidelines.


The only person who will be physically close to you during your appointment is the person taking your blood sample.

You will need to wear a face mask to your appointment.
No. The Galleri test uses a different type of blood tube that is not affected by the national shortage.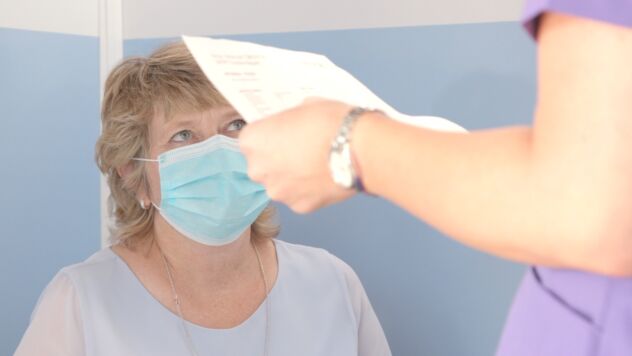 After you have provided your blood sample, we will also ask you to fill in a survey. The survey will ask you about:
Your personal details.

Your behaviours (for example, if you smoke or drink alcohol).

Your medical history.
Test and control groups
Everyone who takes part in the NHS-Galleri trial will give a blood sample and will be assigned to either the test or control group.
Half of the people in the trial will be in the test group. Their blood samples will be tested with the Galleri test. If their blood sample shows a cancer signal they will be told the result.

Half will be in the control group. Their blood samples will be stored and may be tested in the future. They will not receive any results, not even after the trial is finished. A control group is essential in research like this to provide a comparison with the test group.
A computer will choose the groups at random (like the toss of a coin) so there's a 50:50 chance of being in either group.

More about who will get a Galleri test
Support for your appointment
When booking your appointment, you will be asked if you need help to access the mobile clinic, or if you need an interpreter to help you during your appointment.
You will be offered a £10 voucher at each blood sample appointment as a thank you for your time.
What results you can expect to receive
Most people on the trial will not get a test result. Only people who have a cancer signal detected will be given their result.
If you do not receive a result you may still be at risk of cancer so it is important to continue to attend your usual screening appointments and tell your GP if you notice any symptoms that are new or unusual for you.
If you are in the test group and the Galleri test finds no cancer signal, you will not be told this result.
If you are in the control group, your blood sample will not be tested immediately with the Galleri test, so you will not be told a result.
If your test result shows a cancer signal in your blood, the trial team's research nurse will contact you by phone to let you know your result and arrange a follow-up appointment at an NHS hospital for further tests.

You will be in the majority of participants in the trial and will receive a thank you letter to confirm that your blood sample has been safely received. This normally takes around 30 days to arrive after you have had your blood taken, but may sometimes take longer if sample-checking processes are delayed for any reason.
Attending your usual cancer screening appointments
It is very important that you keep attending your usual cancer screening appointments when you are invited to do so. You should also make an appointment to talk to your GP if you notice any symptoms that are new or unusual for you.
Your next appointments
Participants will be invited to attend a total of three appointments over a period of two years. The two later appointments will be shorter, probably 15 minutes each time, and will also take place at the mobile clinics.
Participants may also be asked to complete additional surveys so that the research team can learn important information about their experiences with the NHS-Galleri trial. You may also be invited to talk about your experience at a later date, but this will be completely optional and separate to taking part in the trial.

Ready to take part?
If you have received your invitation letter in the post and are ready to take part, you can do so here.
How to register