Register for the NHS-Galleri trial
Register your details to take part in the trial and book your appointment to attend a mobile clinic.
Please call 0800 030 9245 or use the link below to register to take part.
The NHS-Galleri trial will never ask for your bank details. You do not need to pay to take part in the trial. Taking part is completely voluntary.
Start now
Before you start
To complete registration for the trial you will need:
the invitation code sent to you by the NHS.
your date of birth.
your contact details.
your GP details.
your NHS number.
Your invitation code
Your invitation code is a unique string of 8 digits and letters, like 186dedb3. You can find it on your invitation letter in the section called ​'Sign-up to take part in three easy steps' pictured below.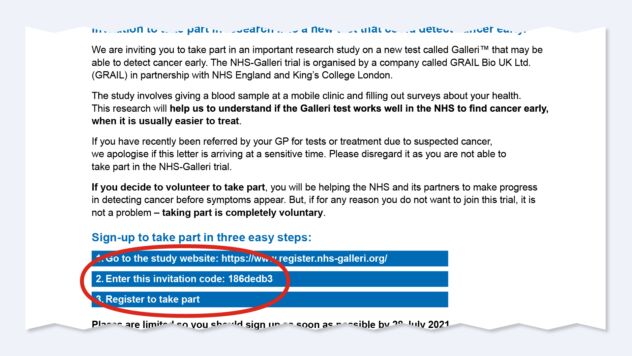 Your NHS number is a 10 digit number, like 485 777 3456. It is on any letter you receive from the NHS.
If you do not know your NHS number you can use the following service to get it.